Saving Data for Decades
Burgess Consulting has been serving the data needs of our clients with hard drive data recovery since PC's came on the scene. We have successfully recovered the data from tens of thousands of computers, disk drives, RAIDs, flash drives, and all manner of digital storage media.
As founders in the Data Recovery industry, we've been under the same management longer than any other recovery firm. Our knowledge goes deeper.
We pioneered the field of data recovery in 1985 and have successfully recovered data for tens of thousands of clients.
We have recovered data from file crashes and physical crashes, from floods and fires, from many other disasters natural and manmade, accidental and purposeful, benign and nefarious.
Call (866) 345-3345 for a free consultation!
Subscribe to our free and informative weekly forensics newsletter!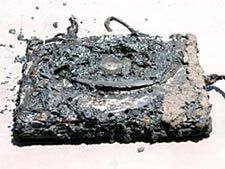 When the library of Pine Grove Elementary School was gutted from an intense fire, this laptop was discovered in the ashes.
The hard drive contained all of the insurance information needed to pay for replacing the books, computers, tables, and everything else that had been totally destroyed in the fire.
In despair, the District IT director sought out our help. We recovered ALL OF THE DATA from this laptop.
Six months later, the library re-opened, full of books, computers, tables, happy children, and one very happy librarian!
"Thank you for your rapid response and successful recovery of the… burned laptop. We would never have been able to provide the insurance company (information) for replacement without your help."
Buzz Eyler, Director
Educational Technology
Orcutt Union School District
"Your ability to recover the data completely has saved me an inestimable amount of work and tens of thousands of dollars."
David P.L. Sachs, MD
Palo Alto Center for Pulmonary Disease Prevention